Class Details and Information
June 9, 2023
We need volunteers! We would love enthusiastic participants to become a "Teacher for a Day" for our upcoming JA Days in June. Volunteers will lead a portion of the program for the day, with all the training and materials provided by Junior Achievement! JA-DAYs can be one of the most fulfilling and impactful ways to engage with students.
Southside STEM Academy at Campostella
1106 Campostella Rd
Norfolk, VA 23523
Featured Curriculum
JA It's My Future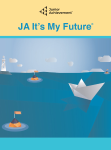 JA It's My Future Blended Model offers middle school students practical information to help prepare them for the working world. Students will develop the personal-branding and job-hunting skills needed to earn a job. (Grades 6-8) The program includes six 45-minute sessions, with additional extended learning activities and optional digital assets offered throughout.