Class Details and Information
June 12, 2023
We need volunteers! We would love enthusiastic participants to become a "Teacher for a Day" for our upcoming JA Days in June. Volunteers will lead a portion of the program for the day, with all the training and materials provided by Junior Achievement! JA-DAYs can be one of the most fulfilling and impactful ways to engage with students.
Oceanair Elementary School
600 Dudley Ave
Norfolk, VA 23503-3599
Featured Curriculum
JA Our Nation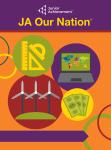 JA Our Nation provides practical information about the need for employees who can meet the demands of the 21st century job market, particularly high-growth, high-demand jobs. Students will understand the skills, especially in science, technology, engineering, and math, that will make their futures brighter. (Grade 5) This volunteer-led, kit-based learning experience is available for classroom-based or remote classroom implementation. It includes five 45-minute sessions and one optional supplemental session, with additional extended learning activities and optional digital assets offered throughout.